Let's set the scene here… you are snuggled up at home, it's blizzarding outside, the fire is crackling away, and you're easing into holiday festivities. All that's missing now is that perfect cannabis accompaniment.
Whether you are looking for a gift for someone special, an office secret Santa, a stocking stuffer, or you're looking to try something completely new, we have you covered.
Our team has put together a hashy gift guide, which includes our absolute favourite, tried and tested, cannabis products.
This cannabis Christmas gift guide is broken down by consumer type. Whether you are shopping for a seasoned dabber or an absolute novice, we have a selection of gifts fit for everyone on your list. 
Say goodbye to holiday stress, this year's gift giving will be a breeze!
For the Occasional Consumer
Rosin Chocolates from Rosin Heads
The team at Whistler Technologies loves edibles. We think they are a great way to consume marijuana, particularly for those who are new to cannabis. Rosin Heads make delicious rosin chocolates.
They even have a 'Hashy Holidaze' edition, cranberry-truffle white chocolate! These are a decadent delight and the perfect stocking stuffer. Just don't leave your stocking near the fire!
*Only available in Canada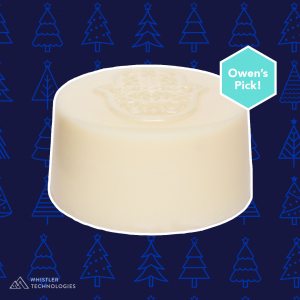 Drops' Rosin-Infused Jellies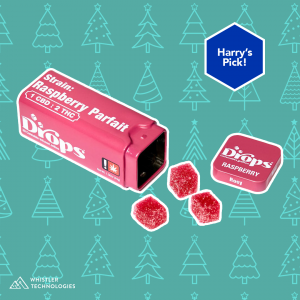 For our American friends, another great edible option is from Drops.
Their raspberry parfait, live rosin infused jellies are mouth watering! And everybody loves parfait – especially during Christmas!
*Only available in the USA
If you are looking to go down the flower route, grab a tasty pre-roll to share at a party.
This is perfect for the novice user, who hasn't quite perfected their joint rolling skills yet.
Look no further than Good Buds. Their organically grown Dosi Melon and Mango Taffie are true favourites of ours.
*Only available in Canada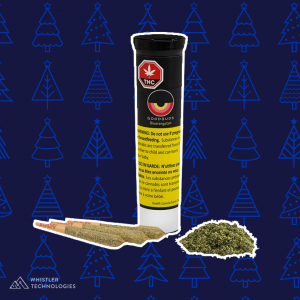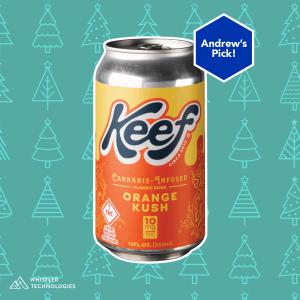 Although we love the idea of cannabis infused beverages, there's still not too many delicious options out there.
However, we do recommend the Keef beverages, particularly their orange kush soda. They even have some mocktail options which you can add to your favourite holiday drink!
Higher etiquette by Lizzie Post
Looking for something a little bit different? How about a lovely coffee table book for the holidays?
Higher Etiquette, by Lizzie Post, takes the reader on an entertaining journey through cannabis culture. She discusses everything ranging from passing a joint, to hosting a dinner party.
This is the complete guide to the world of cannabis!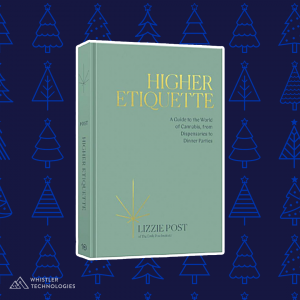 The PuffCo Plus and Proxy
When we sat down to discuss our favourite cannabis products, one thing quickly became apparent:  there were about half a dozen Puffco vape pens on the table. They're just so convenient!
The Puffco Plus is a great device for consuming concentrates. Its sleek design makes it inconspicuous – ideal for chairlift hits on the ski hill!
And for some added style, check out the Puffco Proxy. Our principal design engineer, Dave, guarantees it will up anyone's steeze!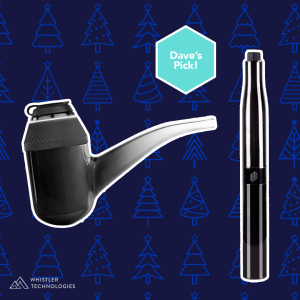 Live Rosin from EarthWolf Farms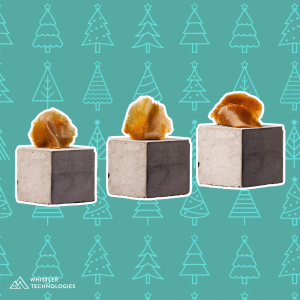 To accompany the Puffco pen, you need to pair it with some delicious live rosin to fill it.
Our friends at EarthWolf Farms produce beautiful organic, sun grown bubble hash and live rosin. Their 'Fire Pack' includes an assortment of three half grams of bubble hash. The 'Live Duo' showcases two different cultivars of live rosin. As they say, variety is the spice of life!
*Only available in Canada
Live Rosin from The Verdant Leaf or Floracal
For our friends south of the border, we love the live rosins from Verdant Leaf in Oregon! Their Guava Casquitos packs a terpy punch, and is sure to put a smile on someone's face this Christmas.
For our friends in California, be sure to check out Floracal. They also produce fire rosin, and some of the best solventless vape carts on the market.
*Only available in the USA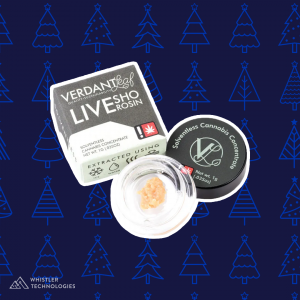 Infused Bath Bomb From Stewart Farms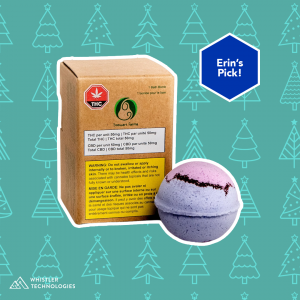 Give the gift of relaxation this holiday season!
As we know, Christmas is for unwinding and enjoying some much needed YOU time!
With relaxation fully on the cards, light some candles, light a joint and run a bath. Stewart Farms are environmentally conscious producers of infused bath bombs, which contain 50mgs of CBD and 50mgs of THC. Their Budda Kush bath bomb is sure to take relaxation to the next level!
A shiny new rig from Mothership Glass
For the daily dabbers, we all know that equipment makes a huge difference to the enjoyment of the dab. And it all starts with the dab rig.
Mothership Glass, based in Washington, creates some insanely beautiful glass rigs.
Even if you don't have the budget to gift this piece of art, it's definitely worth checking out Mothership's rigs!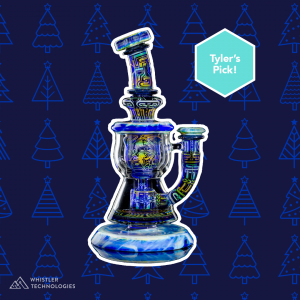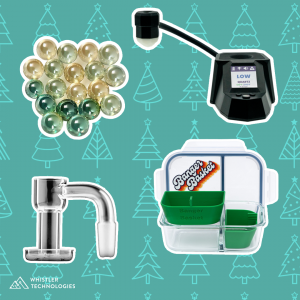 If the person on your list is fortunate enough to already own a sweet rig, then a few handy accessories can be the perfect Christmas gift.
A terp slurper from Toro, complete with D-nail Diamondium Pearls will take their dabbing to the next level. Meanwhile a Dabrite Pro will ensure they hit their dabs at the perfect temperature, every time.
Lastly, to keep nails and slurpers clean and in tip top shape, we recommend the effortless Banger Basket, by our friends from Le Grow Creative.
The Bubbleman's Hash Sticks
If dabs aren't for you, or you're hoping to gift something a little different, then check out 'Hazel Hash Sticks'. Created by our good friend Bubbleman and the team at Embark, the hash sticks are as terpy as they are convenient.
Made with the cannabis connoisseur in mind, these are great to enjoy with the crew – and you'll likely need the whole crew to get through them!
*Only available in Canada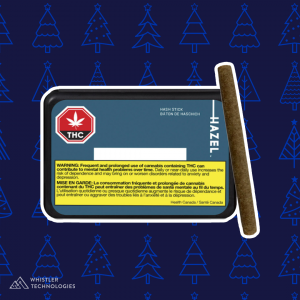 THC Oil From Earthwolf Farms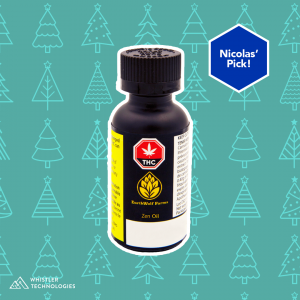 Last on our list, we want to recommend some tinctures for our everyday enthusiasts.
We love the versatility of tinctures, along with all the benefits they provide. They can help you sleep, relieve muscle pain, or simply help you relax.
Our team loves the 'Zen Oil' from EarthWolf Farms. A couple of drops before bed or after a big day on the hill works wonders.
We've even used this oil for some infused dinner parties, which went down a treat!
*Only available in Canada
CBD Oil From Sweetwater Hemp
And if you're looking for oil minus the THC, then look no further than Sweetwater Hemp. CBD is sure to please anyone on your Christmas list – even your pup!
The team at Sweetwater Hemp produces the highest quality, full spectrum oil at their fourth and fifth generation family run farm in Nebraska.
From tinctures to topicals to treats for your dog, these guys are constantly innovating. Check them out!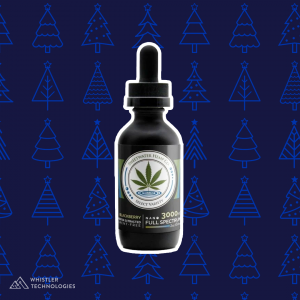 We hope this gift guide gives you some great ideas for the perfect cannabis-themed Christmas gift. All of the products in this guide have been tried and tested by our team of passionate cannabis enthusiasts and connoisseurs.
We stand behind every product recommendation, and admire all the companies mentioned. Feel free to use this guide for any type of occasion – a birthday, Valentine's day, an anniversary, or even a 'just because' gift!
As always, we wish you the hashiest of holidays.
Much love from the Whistler Technologies team!